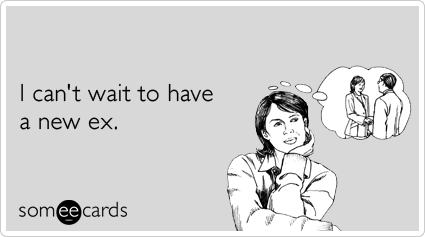 In the About section, I promise that this blog is about the road to health and happiness post-cheater. Nearly a year ago I came out of the divorce funk and fell in love with my life, which was so much sweeter and better than it's ever been. Yet here I am mired in grief. Again. Only this time my sadness is winging from Cheater Ex to the man I dated this summer to last week's new romance that went south almost immediately.
"Your mind is shifting like that," my therapist said today, "because you're mourning the loss of attachment, which means so much to you."
My first year of post-divorce dating seems to have been all about learning to walk away from unhealthy relationships.
That reminds me of last week's strength training session with The Sadist.
There I was crouched in bear crawl position on the floor of the Y, arms and legs trembling with the effort of performing the latest weird and awful exercise my trainer The Sadist has invented. He's ex-military with black hair, dark eyes, and a huge grin. He's got a great sense of humor, especially about the torture he puts his boot camp classes through. But he's even worse in these one-on-one sessions. Week after week, senior citizens at the Y shuffle past whatever bizarre thing I'm doing with a metric crap-ton of weights, shake their heads, and ask The Sadist why he's making that nice, middle-aged lady do these things.
"She pays me for this," he always says. He might as well be rubbing his hands together with glee at having a willing victim.
And I am. And afterwards I feel terrific, my sore muscles grounding me in my body. Sometimes I think this deep muscle work is better than therapy.
This particular day I knew I was in for it when he tied a 45-pound kettlebell to a rope. After exhausting myself with the other exercises in the circuit, I had to bear crawl this thing across the floor and back again. Crouch, yank the rope with the kettlebell through my legs and heave it as far as I could (which was about to my chest), bear crawl up to the rope handle and do it again. And again. And again.
"I call this The Shawshank Redemption," said The Sadist as I yanked the kettlebell up for the millionth time.
"Am I supposed to be glad I'm not doing this through a sewer tunnel?" I asked. He's always happiest when I'm bitching during these sessions, so I do it feely.
"It's the road to freedom," he intoned.
Maybe I imagined the last part. I was a little light-headed by then.
But life hands you the lessons you need to learn. And truth is, sometimes you have to crawl through a tunnel of shit to free yourself from your past.